Product Description
Here's an easy way to start a profitable and fun car detail business. Get the essential products you need to produce professional results, a copy of the Internet's best-selling study-at-home auto detailing course, and a free website (with no fees to pay ever.)
If you don't know what to buy or where to start, it's all here in this tidy, affordable package!
Get Help When And Where You Need It
In addition to written instructions, you get 150 minutes of video demonstrations. Watch them at home or review them on a mobile device whenever, wherever you want.
The Auto Detailing Operations Manual
Learn sales, marketing, and technical tips from this well-organized book featuring color photos.
What's In The 73 Page Book
Part One: Getting Started

Intoduction
Setting Up Your Business
Buying Equipment and Supplies

Part Two: The Detailing Process

Arrival and Setup
Engine Detailing
Floor Mats
Car Washing
Trunk Cleaning & Air Purging
Seats, Carpets, & Door Panels
Dashboard & Center Console
Paint Polishing
Paint Waxing
Windows
Condition Leather Seats
Finishing the Job

Part Three: Marketing

Overview
Marketing Offline
Online Marketing + Create Your Website

Part Four: Customer Service

Final Notes: Putting It All Together
Advanced Issues And Their Simple Fixes
Post Your Craigslist Flyer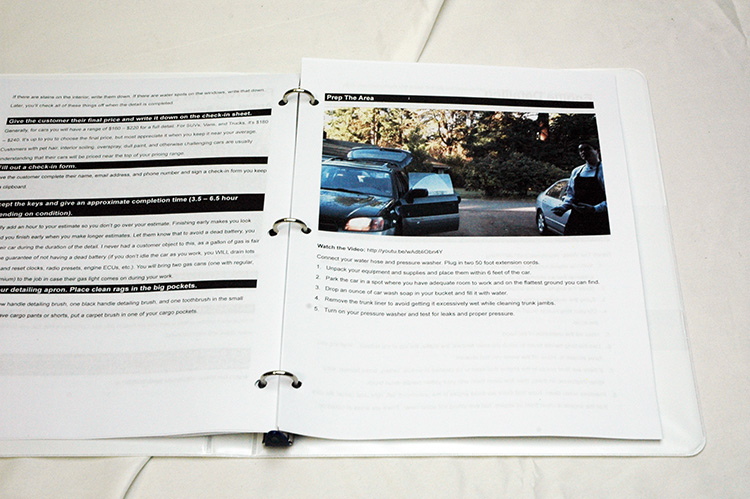 DVD Training: Learn By Example
See how it is done in these videos:
Engine Detailing
What to Wear
Wash, Jambs, Wheels, and Wheel Wells
Claybar Treatment
Floormat Shampooing
Air Purging
Headliners and Trunks
Plastic Interior Panels
Carpet Shampooing
Interior Door Panels
Leather Seat Cleaning
Steering Wheel, Vents, and Gauges
Road Tar Removal
Dressing Rubber and Plastic
Polishing and Waxing in One Step
Wax Removal and Surface Inspection
Chrome Trim Cleaning and Polishing
Window Cleaning: The Two Towel Method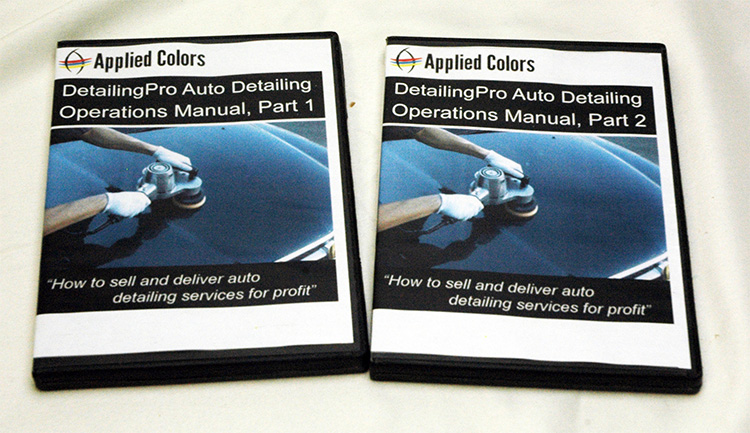 After 11 years…still learning.
I run a car detailing business on the Gold Coast of Australia. Even with over 11 years of experience, I found quite a few useful tips in your course that I added to my work process. Thanks Bob.

Quickly Establish Your Web Presence
Having an online presence is important, but paying someone to build a website can cost at least several hundred dollars and take a lot of time. We show you how to set up your own site, for free, and it only takes about 15 minutes. In addition we also tell you how to optimize it for Google, Yahoo!, and Bing searches within your city.
With the site editor you can upload details about your company, description of services offered and prices, before-and-after images to showcase the quality of your work, contact information, and more. There is also a video on how to update your information as your company grows and you need to edit and add new content.
Finally, we also help set up an ad for Craigslist, used by over 50 million people each month in the United States alone.
Got my money's worth…and more!
Your course has served me tremendously in launching and expanding my mobile detailing operation. Most of my business comes from the free website you provided. Thank you!

EQUIP YOURSELF WITH PROFESSIONAL GRADE TOOLS AND SUPPLIES
Chemicals
1 gallon EazyGlass glass-cleaning concentrate
1 gallon EazyWheels maximum strength wheel cleaner
1 gallon EazyDressing tire and plastic dressing
1 gallon EazyInterior multi-purpose leather, vinyl, plastic, and carpet cleaner
1 gallon EazySprayDetailer wax spray detailer
1 gallon EazyDegreaser engine and door jamb degreaser
6 color-coded spray bottles with chemical-resistant triggers
16 oz. StainBlaster carpet stain remover
Polisher, pads, polish, and wax
Cyclo dual-head paint polisher
(2) Cyclo waxing pads
(2) Cyclo polishing pads
32 oz. EazyCompound paint compound
32 oz. EazyWax polish-and-wax combo
Microfiber towels
24 all-purpose microfiber cleaning towels
12 polishing and waxing microfiber towels
4 lint-free glass cleaning microfiber towels
Brushes and accessories
2 stiff bristle carpet brushes
2 dual-head "toothbrushes"
1 soft bristle interior detailing brush
1 stiff bristle interior detailing brush
Pet hair removal "stone"
Bug-removal sponge
Extra large synthetic drying chamois
Extra-fine steel wool
Fine-grade purple clay bar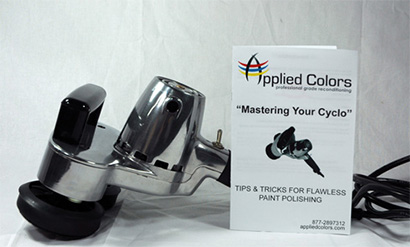 ENOUGH SUPPLIES TO DETAIL AROUND 40 CARS
This is the good stuff.
"Your equipment and supplies work exactly as advertised. I know I've got a solution anything a customer brings to me."

Frequently Asked Questions
How much is shipping and how long until my order arrives?
$60 – $200 via Fedex Ground, depending on your distance from Oregon. Add to cart to check your shipping cost. West coat orders should arrive in 3 days, midwest in 4-5, and eastern in 5-6.
We do not ship the Auto Detailing Startup Package internationally
.
What else do I need to start my car detailing business?
We left out a few bulky items that wouldn't be practical to include because of shipping costs:
Why buy a detailing start up system from Applied Colors?
We do not include any unnecessary products. Other, more expensive systems out there include chemicals and accessories that you will seldom use use.
You're getting top-notch training: study how to make cars sparkle in the reading material, then watch how it is done in the videos.
The free website. As a new business there is no more efficient, reliable way to reach car owners in your area than online.
Success is guaranteed. You can invest with confidence because our startup package is backed by a 60 day money-back guarantee.
How long until I'm "in business"?
You can expect to study and practice for about 2 weeks until you're ready to start making money.
How much can I make?
Full time detailers can profit over $100,000 in a good market after a few years. Part-time, you can bring in an extra $500 – $3000 a month.
I'm making money in just two weeks.
Bob, I've been in business for two weeks now and have 7 contracts with local car lots and doing 2 full details a day. My contracts are producing $2500.00 this month alone, I can't thank you enough.
Always ships within 24 hours to:
| | | |
| --- | --- | --- |
| USA | $60 – $200 | 2-4 day delivery |
| Canada | $150 – $250 | 3-7 day delivery |
| | | |